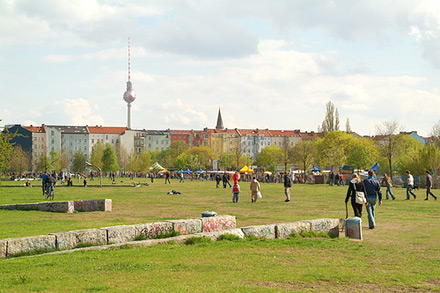 From freight yard to Mauer to Mauerpark
At one time there was a freight yard, then the border between East and West. After the fall of the Berlin Wall (Mauer), greenery began to reclaim the site: wild vegetation developed on its own; locals planted trees at Falkplatz.
At the beging of the nineties, residents of the districts of Prenzlauer Berg and Wedding planned a recreational space at Mauerpark as a green bridge between East and West. Unlike tradition green spaces, the former death strip was given a deliberately sparse design: here, within a densely built residential area, one can enjoy the vastness of the horizon.
The Allianz Environmental Foundation supported the project with 2.4 million euros on the condition that by the year 2010 Mauerpark would span at least 10 hectares. A large free space in the center of the city adds to the quality of life of the residents and  is essential for the city's climate.
So far only the eastern half is complete: the western portions are  rented out to merchants, although they are counted in the land development plan as green spaces. The Berlin Senate intends to allow construction on some of these areas, a change to the plan that faced resistance – the decision was postponed, a mediation process initiated. 
After the arbitrated mediation process ended temporarily in April 2006, and then was not resumed again, there were for 20 months no developments. Finally, in December 2007, Berlin-Mitte Councilmember for Urban Development Ephraim Gothe put forward a proposal for apartment construction as well as 4.5 more hectares of Mauerpark.
Another 15 months went by and still no resolution. Friends of Mauerpark brought the necessity of the park's completion back onto the political agenda. In the summer of 2009, after a proposal for a massive construction project from the real estate firm Vivico, a large protest emerged, pushing the issue into political debates in many committees and among the public.
In November 2009, Friends of Mauerpark proposed a solution, which, after intense discussion, served as the basis for the Mitte parliament's resolution. In summer/fall of 2010, the building plan was developed and Bürgerwerkstatt – a regular planning forum for community members and other stakeholders that is open to the public – established. Both processes should be carried out with full citizen participation.