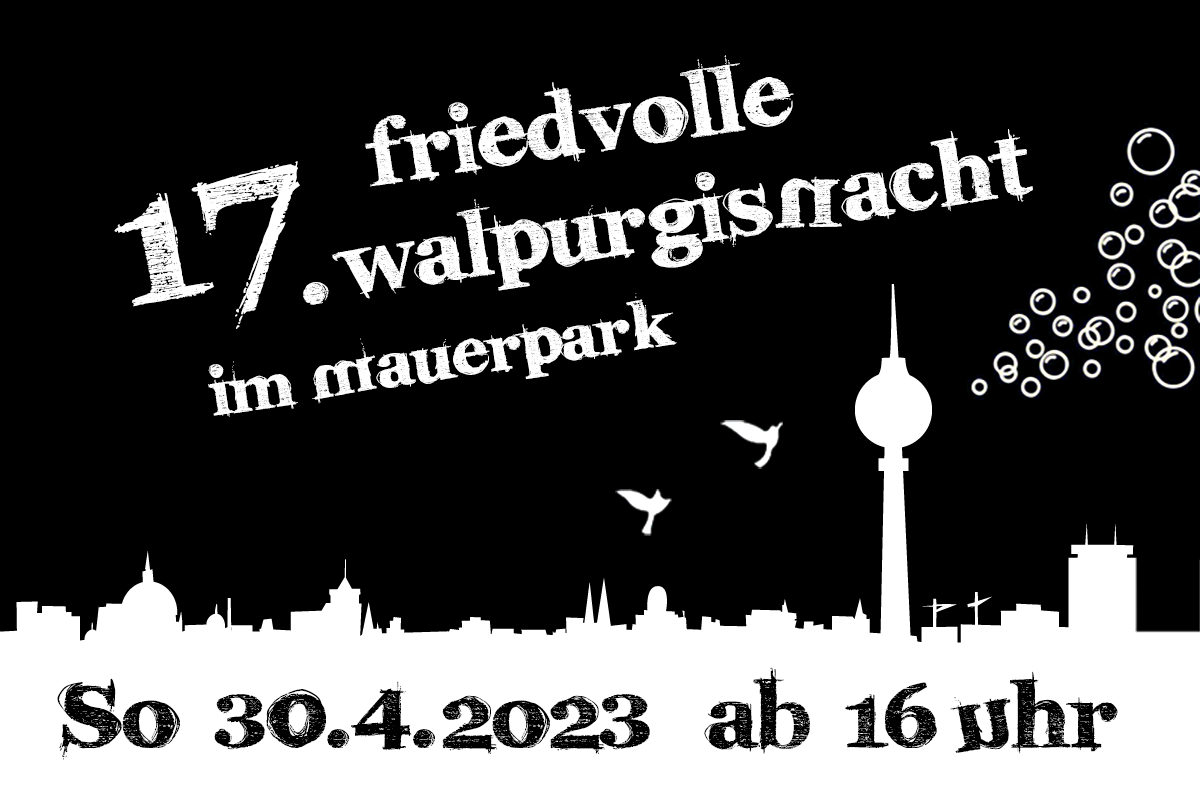 Peaceful Walpurgis Night is here again – for the 17th time. Come and dance in the May in Mauerpark, where the celebrations will be both peaceful and full of fun and include a campfire, fire artists, soap bubbles and music.
Dancing in the May is the modern and peaceful form of an old custom and ultimately heralds the start of summer.
For 17 years, two grassroots organisations Liebet Eure Feinde (love your enemies) and Freunde des Mauerparks e.V (Friends of Mauerpark), supported by Pankow borough council, the Kulturgemeinschaft Mauerpark (culture community) and numerous neighbours, have been celebrating a peaceful and creative Walpurgis Night in Mauerpark.
We will once more be working together on a voluntary basis to organise these celebrations. They have no commercial purpose.
The name of the game is: Come and join in!
Local residents, visitors and creatives have come together to organise an evening of fun: with campfires, music, fire jugglers, soap bubbles and dancing in May – you can let your imagination run free in Mauerpark.
The following artists and projects are supporting us:
Peter-Pat Seifenblasen, Feuerkünstler Ostflimmern-Crew, Fr. Doktor Zirkus, Jimmy Dee & Dieter, Muti Santarosa, Andy Snatch, Roc Rocit, Gilad, Djuggledy, Quirk, Breakers, ChéRebel + Lisa on Fire, Yannick Weineck, Balkhausen, The Final 21, Abriss Andrej, FoxyL, Johnny Jumper, Max Wittig, Flowducer, 12 Volt, Cosmic Fall, DeanisHome, suziefleur, Level Spaces, Dr. Phillharmonics, Steven Paul Taylor, Rolling Lion Hi-Fi + Guests u.v.m.
A central campfire is being made possible with the support of Pankow borough council.
The Peace Circle will come together at around 7 p.m. and voice its wish for peace in Berlin, Europe and the whole world. It is intercultural and open to all. The party will go on until shortly after midnight.
Please spare a thought for the local residents from 1:00 a.m. and let them enjoy their well-deserved sleep.
We wish you and us a wonderful, peaceful Walpurgis celebration.