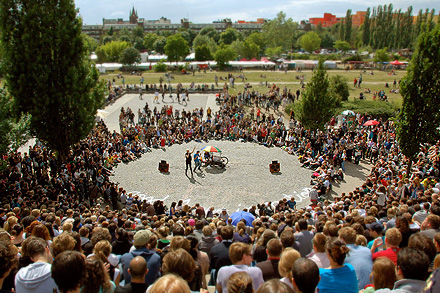 Bearpit karaoke with Joe Hatchiban
Joe Hatchiban has been using portable, battery-powered boxes to help people unleash their inner Rampensau, and barking good natured criticism in the break between the last singer and the next since early 2009.
These singers have been tracked down on his travels by bike all over the great city of Berlin. Either spontaneously in the street, or at Bar 25 (R.I.P.), or at the Berlin International Bierfest, or at the Long Night of the Museums, or at the occasional demonstration for a reasonably good cause, or even at the Christmas parties of one or two companies renowned for their very good taste.
But mostly he finds them at the stone amphitheatre in Mauerpark on Sunday afternoons.
Weather permitting, Joe fetches up around 3 p.m. and invites anybody who so wishes to take the stage for a few minutes, and show those gathered there what they can do with a backing track and a microphone.
Bearpit singers nearly always get huge rounds of supportive applause, especially when they're good, but also if they simply come across as nice people.
Anyway, if things aren't going quite as planned, Joe is always on hand to give immediate advice to performers on the tactical sense of removing a shirt, for example, or simply pulling a few cartwheels during the next guitar solo.
Current information on Twitter und Facebook.
From the Press:
Tagesspiegel: Ein Riesenspaß vor großer Kulisse
Sueddeusche Zeitung: Karaoke-Begeisterung unter freiem Himmel
Berliner Kurier: Das lauteste Fahrrad der Stadt
Facebook: www.facebook.com
Website: www.bearpitkaraoke.com