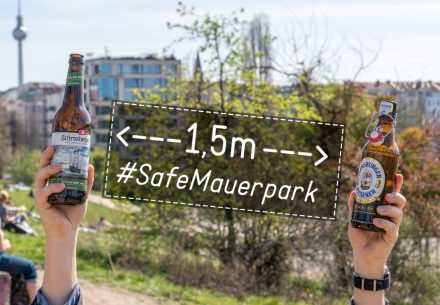 On a sunny day Mauerpark is a magnet for crowds of people. Normally we are delighted to see them there. That's the whole point of this special place. But sadly nothing is normal this year. In these times of Coronavirus we all have to put our own needs on hold and think primarily about everyone around us. So to make sure everyone can enjoy this glorious weather please remember a couple of important things:
Keep 1.5 metres between you and the next person.

Walk by yourself or with one just one other person. People in the same household can also be together but no other kind of group is allowed.

Be considerate to others: for instance, if you want to go jogging, find a place where you can easily avoid contact with other people

Don't inadvertently be selfish. You might be young, strong, healthy and immortal. But you might infect someone more vulnerable – with possibly serious or even fatal consequences.

Enjoy the fantastic weather!
The current situation is hard to deal with. None of us have experienced anything like this before. If we all do our bit, we will soon be able to fully enjoy Mauerpark in all its diversity again. Happy Easter/Passover everyone.
Stay healthy! We'll meet again (hopefully very soon)