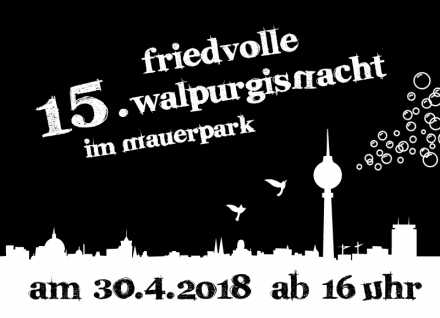 The slogan for the celebrations is quite simple: come and join in!
Local people, visitors and creatives will get together to produce a very special evening that will include a campfire, music, fire juggling, soap bubbles and the opportunity to dance in the May. You can let your imagination run free in Mauerpark.
Some of the people joining us this year: Peter & Pat, Team-Fox, FeuerCamp, Dub der Guten Hoffnung, Hope Center, diekreative, Puto Production, 12 Volt, OYA, Folkwiese, Andy Snatch, Paul Tolhurs,  Buddhi, Johanna Zeul + Masataka Koduka – to mention just a few.
At 7 pm we will express our hopes and wishes for peace in the form an interfaith prayer. Everyone of any faith is welcome to join in.
Our celebrations will end just after midnight. After 1.00am, please spare a thought for the people who live near the park and would like to get a good night's sleep!
Further information at:
www.friedvolle-walpurgisnacht.de
www.fb.com/friedvolle.walpurgisnacht