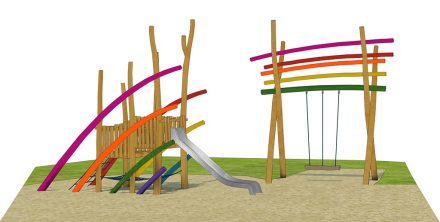 The children get first parts their playground back
Jens-Holger Kirchner, responsible for urban development with Pankow Council, the non-profit organisation Freunde des Mauerparks and SIK-Holzgestaltungs GmbH have found a solution that will make it possible to re-erect the Rainbow playground in Mauerpark before the end of July. The old playground was closed down in autumn 2015 for safety reasons and its rainbow dismantled. The foundations were suspected of being unstable.
What is special about the new situation is that two very different kinds of group will be involved. One of the groups is Rainbow-Projects.de, headed up by its co-founder Rolf Martin, who is a church minister in Lübeck. The other group consists of refugees, young men living in emergency accommodation in Malmöerstrasse. Everyone, including the Freunde des Mauerparks, will be giving their time voluntarily to replace the swing in the middle of the rainbow and the small circular element of the playground.
The Rainbow playgrounds are important as a symbol of reconciliation and there are many of them in different post-conflict countries around the world. The first was constructed in Soweto in 1998; "our" rainbow in Mauerpark was added in 1999 and stands where the Wall divided the boroughs of Pankow and Wedding in the former East and West Berlin.
It has been possible to start re-creating the Rainbow playground because the Freunde des Mauerparks ran a successful campaign and raised sufficient funds and because SIK-Holzgestaltung is going to do the work free of charge.
We need more funds to be able to fully recreate the lovely Rainbow playground so that the children can play there again in 2017.
More Info
Donate Now!
Building work is scheduled to start on Monday, 25 July at 11:00 am
Venue: The empty playground site beside the birch grove