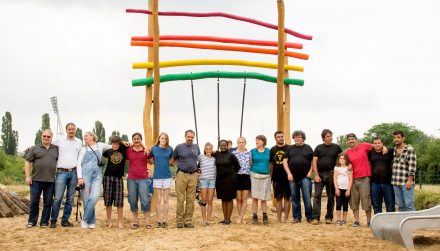 It took refugees from Syria, Africa, America and Germany just one week to construct the first two elements of the Rainbow Playground.
The whole thing was made possible thanks to many donations and the professional input from SIK-Holz, the company that makes the play equipment.
Putting up the visible elements went really fast but it will take longer for the foundations to harden off (a couple of weeks).
Please be patient. You will soon be able to play on the swing and slide here. We are looking forward to it too.
We are continuing to collect donations so that we can reconstruct the entire rainbow. It still needs the slide, which is part of the eastern section and an ark – just in case there is a flood.
Please donate whatever you can and share the link with your friends.
More Info
Donate Now!