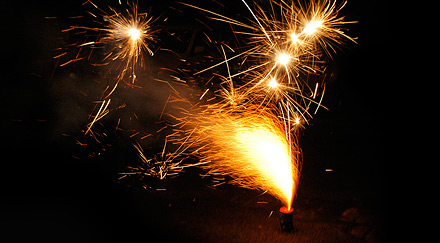 2015 was a turbulent year for the Mauerpark and 2016 will no doubt also have a few surprises in store.
We have just one request to everyone who is thinking of coming to the Mauerpark to see in the New Year:
Please spare a thought for the wildlife in the park and celebrate without bangers and rockets. A lot of animals live in the Mauerpark and the noise, smoke and flashes of fireworks are terrifying for them. The park is one of the very few safe places for them to seek refuge in the city. Please don't destroy that for them.
And think of your fellow human beings too! They are not an appropriate target for home-made rockets or bangers. Have a great party and enjoy yourselves but please do not overestimate your skills in handling the fireworks. Remember they can cause serious injury – to you and others.
Please don't litter the park. Take your empty packaging, bottles and glasses home with you.
Our motto for 2016 remains the same: Respect for one another and commitment to taking care of this precious open space in our city.
The Friends of the Mauerpark wish you fun on New Year's Eve and all the best for 2016!