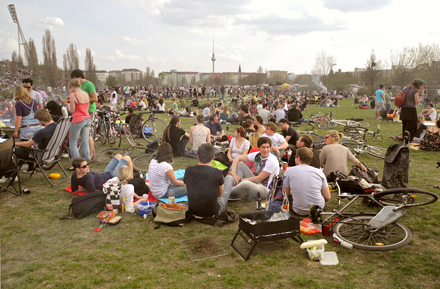 Grilling in Mauerpark is very popular…
however, it is allowed only in the large grassy area (the area shaded red on the map). In all other areas (marked green) – including Falkplatz, the small birch forest, the area north the Gleim Tunnel, the hillside – grilling is not allowed.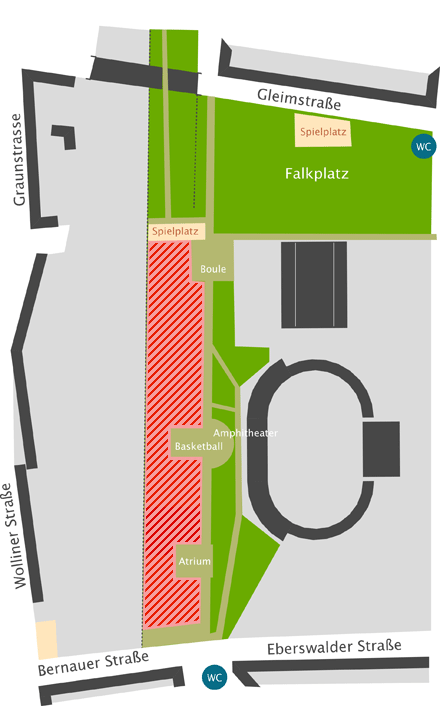 So that nothing spoils the joys of Barbecue, there are a few rules to observe out of respect and caution for the park and everyone who uses it.
Rules:
Bring your own grill.  Never light charcoal or a wood fire directly on the grass, on the ground, or in a barbecue pit.
Disposable grilling trays are not allowed in Mauerpark
You are responsible for your own wood and charcoal. Do not gather branches and twigs on site: Parks do not supply firewood!
Do not use highly flammable liquids (alcohol, gasoline, etc.) to start a fire!
Do not set up your grill under trees: rising heat and flying sparks harm their branches.
Leftovers, paper plates, and packing material belong in the trash – preferably in the garbage can at home. At most of the grilling spots there are special containers, but they fill up very quickly.
Open garbage cans are not suitable for grilling waste. Leftovers especially attract crows and foxes, which clear out the containers and scatter their contents throughout the grass.
Extinguish coals and ashes thoroughly with water.
Ashes go in the ash containers, not in the garbage.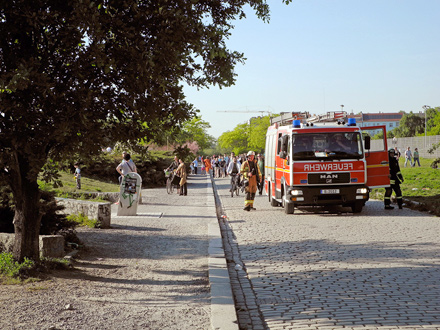 You can save yourself money:
If you set up a grill anywhere besides the designated areas, you will have to pay fines: up to 20 euros for minor violations; for digging barbecue pits or similar offenses, up to 5,000 euros. You can also face fines for dumping ashes in the plants, leaving you garbage out, or using tree branches and twigs as firewood.
Important: Ashes not only need to be extinguished; they also belong in the special ash container. Throwing away ashes in the normal trash containers will start a fire. That will get really expensive…
More information on the Berlin Senate's site (German).